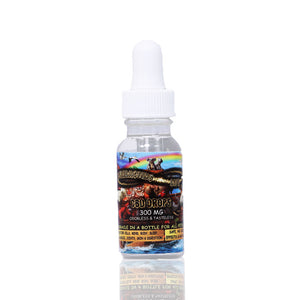 CBD Oil For Pets Description
CBD For Pets has become the talk of the town. Just like humans, our pets also need the extra dose of nutrition and aid as they age. Cannabidiol, commonly known as CBD is one of the options to consider and it can be consumed by your furry friends through various products like Cannabidiol-infused Oil. CBD Oil for Pets holds a bundle of benefits and is a natural anti-inflammatory medicine that boosts the immune system's reaction to various physiological and neurological problems of your furry companion.  
Crafted from certified organic hemp from the fields of the U.S.A., each bottle of CBD Oil For Pets contains a 300mg concentration of CBD.  Devised in a clean ISO-7 lab, every CBD-imbued animal product by everlastinglifecbd.com is tested from a third-party lab and has an authentic Certificate Of Analysis to ensure the safety of your dog or cat. 

CBD For Pets :
 Is your pet behaving like a total freak? Are you looking for a solution to calm it down? Maybe a proper dosage of CBD can help. When it comes to health & wellness, the importance, and benefits of CBD must not be ignored.
Our Best CBD oil for pets is derived from the certified Hemp plants of the US and formulated in an ISO-7 clean lab by taking the highest standards of quality into consideration. Our 15ml bottle of pet oil includes 300mg of pure and THC-free CBD extracts. Each product of Everlasting Life CBD goes through third-party testing to ensure quality and purity. Our CBD drops for pets are 100% organic with no added GMOs or other cheap fillers.
Made in the USA.
Natural & THC-free
Verified Potency
No added artificial flavors
Strength
Everlasting's CBD Oil For Pets FAQs:
Why Choose CBD Oil for Pets?
The CBD oil for pets comes with incredible health-boosting benefits that allow your pets to fight unwanted health issues. Derived from certified organic hemp and periodically tested under third-party labs, this CBD oil for pets online helps in reducing problems between pets and improves the immune system. The neuroprotective and therapeutic properties of CBD oil for pets help in maintaining the balance of the body.
How do I give CBD oil to my aggressive dog?
Try to give a few drops of CBD oil to your dog straight from the dropper. There are very fewer chances that your pet would deny having the drops as it doesn't have any bitter or harsh taste. In case your dog or cat isn't taking the drops straight, add a few drops to their favorite treat, water, or food.
How do I manage the side effects?
Relax! There won't be any side effects unless or until you do not overdose your pet with the oil. CBD helps in supporting certain functions of the body connected to the Endocannabinoid system. This system is found in almost every creature on Earth. The reason CBD supports the human body and animals too.
How many CBD drops should I give to my dog in a day?
Although there's no exact number, the accurate amount needs to be determined by you. Our pet oil is composed of both small and large breed dogs and cats. You must start by giving a small portion and can later upgrade with your own personal serving size.
What is the recommended dosage of CBD pet oil?
Our CBD oil for pets comes in a dosage of 300 mg. It is recommended to start with a basic dose of 1 mg (2 drops) for dogs or cats under 10 pounds. The right dose varies by the level of symptoms and one's situation. Similarly, dogs or cats over 20 pounds can start with a basic dose of 2 mg (4 drops). You can use it twice a day; every morning or night.
Where can I shop for CBD pet oil locally?
It could be quite tricky to purchase pet oil from a local shop of a local brand. It could include harmful chemicals or cheap fillers that might affect adversely it. We always recommend you check the source of CBD, level of THC, and other ingredients before making a purchasing decision. However, you can check some certified and industry-approved online stores like Everlasting Life CBD which provide products like CBD Oil Sublingual, Capsules, Gummies, and many more.
Can I give Human CBD oil to my pet?
Yes, it is safe to give THC-free hemp-derived human CBD oil to your pets. But for better results, you must purchase CBD oil for your dog or cat. The reason is pet oil is specifically made according to the weight and size of the animals as CBD consumption differs from person to animal.
Are there any side effects of CBD for Pets?
Every pet is different and there is a possibility that the dose you have given them or the time at which they have been fed with CBD is not suiting them. In such cases, side effects like nausea, sleeplessness, sudden mood changes, disturbance in appetite, or uneasiness can be seen. Sometimes, CBD as a drug might not go well with your pet's body or maybe the product is fake or has the wrong ratio of CBD. As a pet parent, you have to tread carefully and observe and plan with utmost caution.
Is CBD for Pets Safe and legal?
CBD is purely a medicinal herb if derived from an original hemp plant of the Cannabis Sativa species. It is because the intoxicating compound, i.e. THC or Tetrahydrocannabinol in the CBD is negligible (0.3%) which in marijuana is in higher concentration. That said, CBD for Pets is totally safe and works only as a health booster. Sometimes, CBD as a drug might not go well with your pet's body or maybe the product is fake or has the wrong ratio of CBD. As a pet parent, you have to tread carefully and observe and plan with utmost caution.
How does CBD for Pets work?
CBD has the ability to stimulate the endocannabinoid system (ECS) of our furry babies. When cats and dogs are anxious, stressed, agitated, have PTSD from a rescue or suffer from kidney or inflammatory bowel disease (IBS), loss of appetite, arthritis, and aging loss of fur thickness, a daily dose of CBD can deliver them all the amazing relief. With the ability to heal, Cannabidiol also is rich in nutrients and omega fatty acids that are a must for a happy and healthy pet.
How much CBD Should I give my pet for anxiety?
For whatever purpose you are selecting CBD Supplement for your pet, make sure that you aim between 0.1 to 0.2mg per kg of your pet's weight. Also, if your pet is already undergoing treatment through other drugs then avoid giving CBD or consult with your veterinarian about whether it is safe or not.
How often should CBD for pets be given?
Your furry companion can feel the difference in health only if your pet is fed with CBD with proper planning regularly. It should be a daily habit until you gradually begin to feel the change in your pet for the better.
WHERE TO PURCHASE CBD OIL FOR DOGS
You can purchase CBD oil online from a reputable vendor like Everlasting Life CBD. They carry the finest and safest CBD dog and pet product ranges. And they have the third-party certificate analysis to prove it.
HOW TO CHOOSE CBD OIL FOR DOGS
A dog is a man's best friend and as your best friend, they deserve the best. Choosing the right CBD oil for your dog is critical because there are no FDA guidelines for CBDs at the moment. This means there are a lot of fakes and pirated CBD oils lying around online. So, to choose the best CBD oil for your dog, you must be on the lookout for several criteria. The most important is them all is the quality of the CBD. A quality CBD oil is made from pure organic hemp and ingredients, and it must be non-GMO and contains no chemical impurities. 
Also, the potency of the CBD oil is key because the potency of the CBD oil will determine the dosage. Again, pay attention to the third-party testing and finally look out for the dosage. If you are looking for a hassle-free way to get CBD oil for your dog, then you should check out the Everlasting Life CBD store.
WHICH CBD OIL FOR DOGS IS BEST
CBD products from Everlasting Life CBD are great at improving the quality of life both for you and your dog. People who buy CBD oil from everlasting Life CBD store because of how it is specially crafted for dogs, to help them live their best lives. Each CBD oil bottle contains 300 milligrams of potent broad-spectrum CBD that is suitable to improve the wellness of your pet and relieve all manner of pain and mental stress.
HOW MUCH IS CBD OIL FOR DOGS COST
There is no one-price-fits-all when it comes to pricing. However, if a CBD oil price is too low, bear in mind that it may be fake or low quality. Pure, organic CBD oil can look pricey and can begin from $30 to $100 depending on the type of CBD used as the base, and the potency of the CBD. Everlasting Life CBD store carries a broad-spectrum CBD oil with 300mg potency for $55. That is a great price for an organic, whole CBD oil.
CAN CBD OIL FOR DOGS BE USED WITH OTHER MEDICATIONS
There is no theoretical risk of drug interaction because CBD oil doesn't have any drug interactions when administered to a dog that's on an anti-inflammatory drug like Rimadyl. However, there is limited research to give evidence to this fact or if CBD oil can react with other medications. So, to be on the safer side, consult with your veterinarian before treating complex issues (or any other issues) with CBD while giving your dog other medication.
WHAT CBD OIL IS BEST FOR DOG SEIZURES
CBD oil has shown to be very effective in helping with seizures in dogs. CBD oil helps to reduce the number of seizures that a dog experiences and also reduce the severity. Everlasting Life CBD broad-spectrum oil 
WHERE TO PURCHASE CBD OIL FOR DOGS?
With so many retailers selling CBD it can be difficult to find authentic CBD oil for your dog. For starters, don't purchase any CBD oil or other CBD products from Amazon, this is because CBD is on Amazon's restricted product list, meaning that retailers are not allowed to sell CBD-related products on Amazon. The products you see on Amazon are hemp oil, and it is different from CBD oil in that hemp oil is made from hemp seed and contains no CBD. You can purchase CBD from the Everlasting Life CBD store and improve the quality of your dog's life.
WHERE TO BUY CBD OIL FOR DOGS NEAR ME?
You can get CBD oil from any authorized online store. But the best place to get pure, organic oil that will be very beneficial to your pet while giving you value for money is the Everlasting Life CBD store. Check out their store for a range of CBD pet products and other CBD-infused products for you and your pet.
IS CBD OIL GOOD FOR DOGS WITH ARTHRITIS PAIN?
CBD oil is very helpful when it comes to diseases and other forms of discomfort caused by inflammation. Because of its anti-inflammatory property, CBD oil helps to reduce inflamed joints in the body, providing relief for the pain.
WHICH CBD OIL IS BEST FOR DOGS ANXIETY?
CBD oil is popular for the succor it provides both humans and pets alike. Its therapeutic properties and interaction with the endocannabinoid system help to reduce stress levels in humans and pets alike. For your pets, CBD oil helps with stress and anxiety, helping your dog to focus better and be more compliant. A lot of people credit their calm and healthy dog to the CBD oil from the Everlasting Life CBD store.
People who buy our broad-spectrum CBD oil have commented on how highly effective our CBD oil is. They attest to the fact that CBD oil helps to soothe the body and emotions of your pet, and also helps them work through separation anxieties and other forms of stress that lead to destructive and aggressive behaviors. With a 300mg strength, you can improve the emotional well-being of your pet and ensure they are mellow and happy all day. A happy dog will make a happy and focused you. 
HOW MUCH CBD OIL IS FOR DOGS WITH HIP DYSPLASIA?
CBD oil possesses active ingredients and compounds that have anti-inflammatory and analgesic features that come together to relieve pain, helping to reduce inflammation and pain in dogs with hip dysplasia. While there is no standard medication as there are a lot of factors that will determine how much CBD oil you should give your dog, Everlasting Life CBD store recommends 1-2mg/kg of weight.
IS CBD OIL GOOD FOR DOGS WITH LYMPHOMA
There is evidence to show that CBD oil is effective for managing lymphoma. This is because one of the drugs prescribed for dogs with lymphoma is Prednisone. This drug is prescribed because of its anti-inflammatory properties. CBD oil also possesses potent anti-inflammatory properties which are really effective for reducing and managing the effects of lymphoma, including killing off a certain proportion of cancerous lymphocytes.
IS CBD OIL SAFE FOR DOGS AND CATS
One question that most dog and cat owners ask is the safety of CBD. The question will keep coming up because the FDA has not given any clear cut stipulation or approval for CBD to be used as a medication. The same is also true for most of the drugs veterinarians use for pet treatment. According to the FDA and WHO, CBD oil is safe for both dogs and cats when consumed in the right dosage. CBD oil shows promise when it comes to relieving your pets from certain conditions like stress, pain, and inflammation. Please note that you should not give CBD oil meant for humans to pets.
DOES CBD OIL FOR DOGS CALM THEM DOWN
CBD oil is known to help pets with a wide variety of issues including stress. Your dog can be stressed for some reasons, including boredom, frustration, being scared, or anxiety. Also, your dog may be stressed because the family or you are stressed. Taking CBD oil helps the endocannabinoid system release dopamine – the feel-good chemical – which causes pets and humans alike to relax and calm down. CBD oil has been proven to help reduce anxiety in dogs and pets in general, while also helping them feel at ease and relaxed.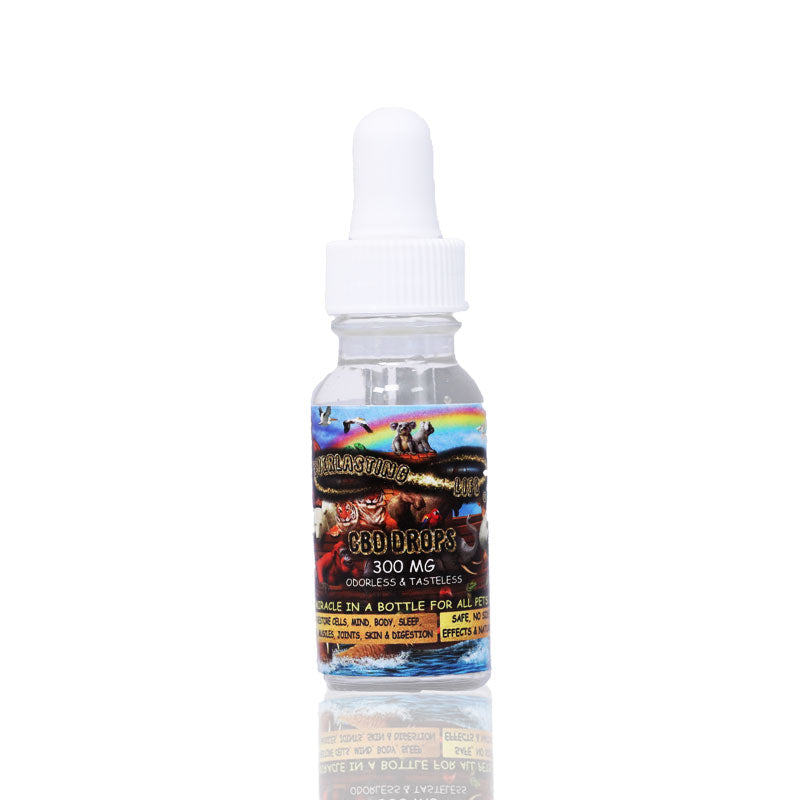 CBD Oil for Dogs
CBD improves the quality of life for both humans and dogs alike. CBD oil is very good and also safe for dogs. By adding CBD oil to your dog's wellness and health regime, you are not only opening your dog to enjoying the medicinal and therapeutic benefits of CBD, but you are also giving your dog all the love it needs to develop a full and beautiful coat, stay mellow and alert, and live a full and healthy life.

Sublingual, Odorless, and Tasteless Miracle in a Bottle CBD For Pets. 15ml bottle. Safe no side effects and natural. No THC and no legal high.

This is organic, full-spectrum with naturally occurring CBD Oil for Pets.

The Everlasting Life CBD oil for pets is derived from certified organic hemp and periodically tested in third-party labs. The Everlasting Life CBD is an ideal store to buy CBD Oil for pets online.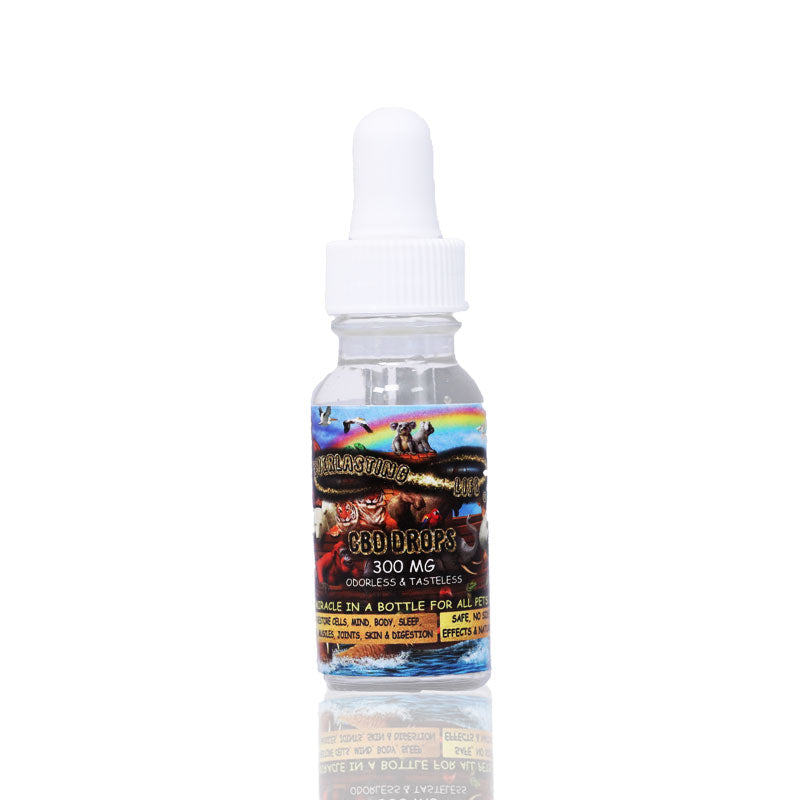 CBD OIL DOSAGE FOR DOGS AND CATS
There are a lot of factors that determine how much CBD oil to give to your pet. Chief among these factors are weight, CBD type, purpose, and the amount of CBD in the oil. For a 300mg CBD oil, Everlasting Life CBD recommends between 1-5mg of CBD for every 10 pounds (4.5kg). another way to determine the right amount of CBD oil is to give your pet a drop of CBD oil and check the effect. Do this until you get the right effect you are looking for.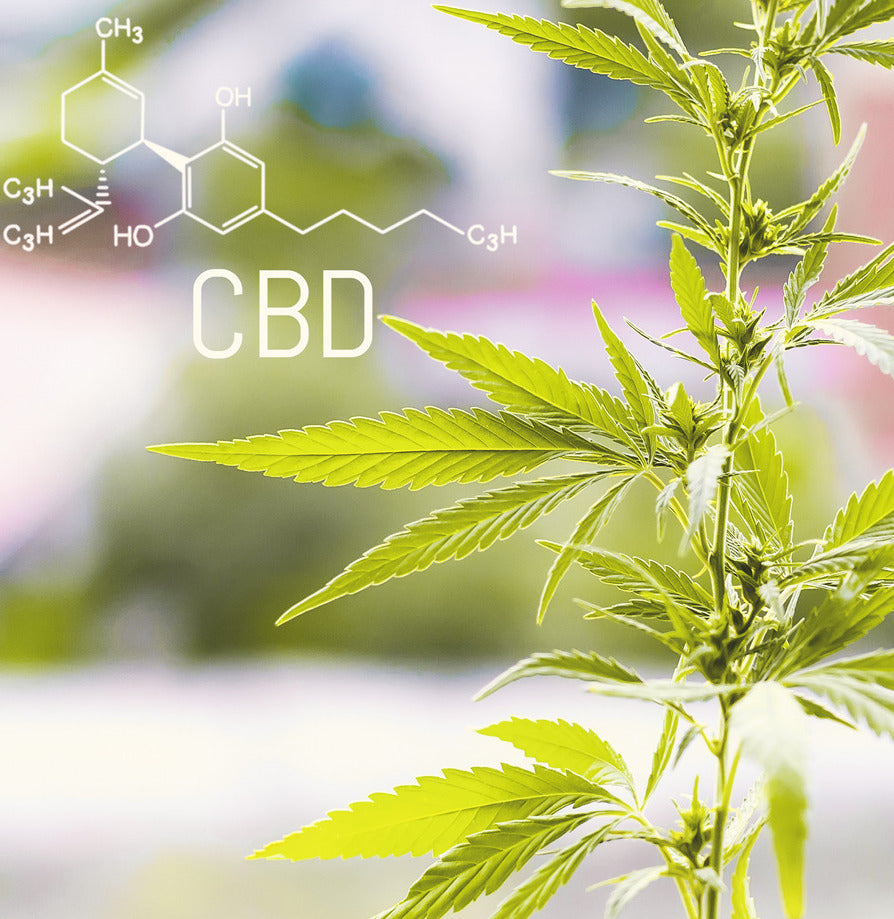 CBD Oil for Pets Benefits
CBD oil is the ideal and natural way to treat your dog and relief your four-legged friend of the pain and immobility associated with joint pain. CBD oil contains anti-inflammatory properties which help to reduce inflammation in the joint (the root cause for most issues is inflammation).

CBD oil possesses analgesic and anti-inflammatory properties which is helpful for any form of inflammation, this is one of the reasons why CBD has been touted as a wonder drug because of its many applications, including helping to reduce inflammation and the discomfort caused by pain, bringing relief to your dog.
Separation anxiety is a condition where an otherwise well-behaved dog develops an inflated form of attachment to its owner or other members of the household including other pets. When separated from their favorite person(s), dogs with separation anxiety exhibit anxiety, whining, destructive behavior like destroying furniture, aggressiveness, barking, and other negative behaviors. CBD oil helps your dog to be mellow and relaxed.

One thing most responsible dog owners look out for is signs of aggression in their dogs. Although there are other ways to deal with this, like medication and dog training or behavior modification, using CBD oil is a more convenient way to eliminate anxiety and aggression in your dog. This is not rocket science as there is a natural explanation for this. CBD oil interacts with the CB1 and CB2 receptors in your dog to induce a calming effect in your dog, thereby eliminating and easing the stress that causes anxiety or aggression.
CBD oil is a great and natural option for treating dogs and pets with arthritis. The quality of relief it brings is fast-action and long-lasting and this is because of the anti-inflammatory and pain-relieving properties of CBD. Furthermore, CBD oil is a safe and effective treatment option, but you should speak with your vet before changing your dog's arthritis medication to CBD oil.
CBD oil is great for the fur or skin of your pets because of its therapeutic and anti-inflammatory properties which help heal skin irritation and also provide healthy-looking skin.

There is evidence to suggest that CBD oil is effective for treating some eye irritation and issues. A major reason for that assertion is because of the anti-inflammatory properties in CBD which help to reduce any form of inflammation and provide relief. On the other hand, there is no evidence to suggest that giving CBD to your dog can cause redness of the eye. It is giving

There is evidence to suggest that CBD oil is a great and natural treatment for ear infections, and nose and throat injuries. You can now help your dog live its best life daily by using CBD oil to treat its issues without creating any form of dependence on other drugs.
CBD has been touted as a wonder drug, and this is because of its anti-inflammatory property which makes it very effective for any form of inflammatory-related issues. The ability of CBD oil to reduce pain and inflammation in the intestine makes CBD very helpful for your dog, especially if it has digestive issues.

While there is scientific evidence that CBD oil is effective for kidney disease, it is suggested that CBD oil helps to manage the pain and symptoms associated with the disease.
One of the most talked about benefits of CBD oil is how it helps to improve the quality of life and when it comes to cancerous cells in dogs, the case is the same. Research has shown that CBD is great at reducing bad cell growth because of its anti-inflammatory properties found in CBD. CBD is a natural treatment to supplement traditional treatment regimens. So, speak with your vet before going this route, as CBD can interact with other medications and cause adverse effects.

Like humans, your dog or pets can experience stomach upset and nausea. Giving CBD oil to your dog will help to provide your dog with relief by interacting with the endocannabinoid system to soothe the internal organs.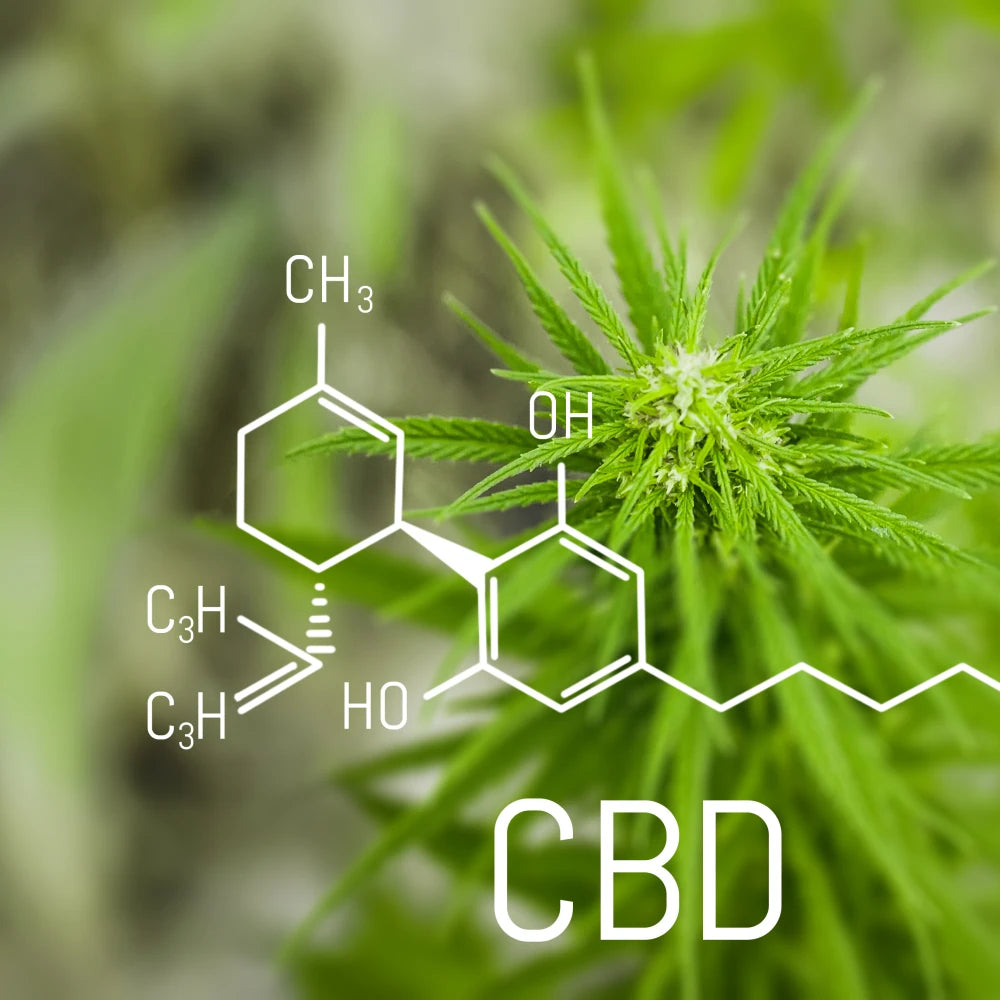 CBD OIL FOR DOG SIDE EFFECTS
As great as CBD oil is, there are some side effects to watch out for. These side effects in most cases are due to taking too much CBD oil. These are the most common side effects of CBD oil; dry mouth, dizziness, increased tremors, low blood pressure, upset stomach, vomiting, itchiness, lethargy, diarrhea, and inhibited the production of liver enzymes. So, before giving CBD oil to your dog, ensure you get the dosage right.
CBD unlocks nature's powers to preserve and maintain the systems in your body and ensure they function optimally. CBD contains active ingredients like, all the cannabinoids, terpenes, and flavonoids that your body needs. These compounds coming together creates an "entourage effect" – thus increasing the potency and benefits of each individual ingredient to give your body an overall boost.. By adding CBD to your daily life, you are supplying yourself and your pets, you are supplying your body the ammunition it needs to combat stress and other issues at their source leaving you healthy and strong.


Our range of CBD products is based on years of research, putting together the necessary ingredients and compounds that your endocannabinoid system needs to maintain homeostasis. Every single compound in our products is strictly put together for one purpose – to help you and your pets live your best life. Everlasting Life CBD follows the strictest guidelines laid out for safety, health, and dosage by the approved authority. Our products are made from organic hemp sourced from licensed hemp farms in the US, meaning that our CBD products are legal. Also, our CBD products follow strict ISO safety standards and we have the third-party certificate analysis to prove it. Whatever you see on the product label is what you get from the products you purchase.
What our Customer Saying About Us?