CBD Vape Drops Description:
Are you in pain? Do you have anxiety? Are medications not working to ease your symptoms?

Try CBD Vape Drop. Comes in handy in a pack of 30ml, contains zero THC, and no legal high. Sublingual, Odorless, and Tasteless, this CBD Vape Drop can be loaded in the vape cartridge or used sublingually to calm the mind and body. Available in 4 different potencies to choose from: 300mg, 500mg, 1000mg, and 1500mg.
CBD Vape Juice Strength:
300mg
500mg
1000mg
1500mg
Everlasting's Life CBD Vape Oil FAQs:
Will CBD oil make me sleepy?
CBD oil works miraculously for insomnia and sleep disturbances but that does not mean it will make you feel fatigued and sleepy. The CBD extracts present in the oil react with the receptors in your brain that give orders to your body and further manages the sleep cycle. The Everlasting's CBD oil sublingual will never make you feel sleepy during the daytime or interfere with your routine instead, it will keep you more vigilant and focused.
What is an accurate daily dose of CBD oil?
You must have commonly heard about taking a single drop of CBD Oil daily. However, that is truly accepted but an accurate dose can vary from 5mg to 150mg of CBD per day. Our 15ml tincture of CBD oil contains 690 drops approximately and an average suggested minimum dose is 1 drop every 9 hours. It is recommended to manage the dosage according to your symptoms.
Will CBD Oil increase the "Munching"?
CBD is often referred to as Marijuana and is misunderstood. This situation is brought up by Tetrahydrocannabinol (THC) which is found in Marijuana and encourages munching. Hemp-derived CBD is completely different and is known to deliver positive health benefits. Our CBD drop is a THC-free formula that actually may balance the appetite.
What is the best way to use CBD oil?
Many CBD oils come with a dropper or a spray. The Everlasting life CBD uses a sublingual formula that is a much more convenient, simple, and clean way to use.
What worst can happen by using CBD Oil?
As once more, CBD does not have any side effects or any critical health implications. However, the overdose or not following a proper pattern might bring mild change in the appetite, anxiety, nausea, or dry mouth.
Can I store my CBD oil in the refrigerator?
We do not recommend you to place the bottle of CBD oil in the refrigerator or under hot temperature as it might re-crystallize. It is best to store it under room temperature that is out of direct rays of the sun.
HOW TO VAPE CBD OIL
The first thing you want to know about vaping CBD oil is knowing how much to vape. Since most vape pens are disposables, it means that there is every chance that your vaping device came pre-filled with CBD oil. All you have to do is inhale. Disposable vapes are usually draw-activated, so the device will push CBD-enriched flavor into your mouth.
HOW LONG DOES CBD VAPE JUICE LAST IN YOUR SYSTEM
The length of time that CBD vape juice stays in the system is completely dependent on how much the person consumed. CBD vape juice can stay in the system for 10 hours to 1 week. Most time, in the case of vaping, it stays for up to a week.
HOW MUCH CBD CAN YOU VAPE PER DAY
When it comes to CBD and how much you should vape, there is no specific amount of CBD. It is totally dependent on several factors, like purpose, your body weight, and the potency of the CBD. However, if you must vape CBD, here are the recommended amount of CBD you can vape per day. You can vape 12mg of CBD if you are between 80 – 150 pounds. The table below shows the recommended dosage per day;
| | | | |
| --- | --- | --- | --- |
| | 80 – 150 pounds | 151 – 240 pounds | 240 pounds |
| Low | 12mg | 18mg | 22.5mg |
| Medium | 15mg | 22.5mg | 30mg |
| High | 18mg | 27mg | 45mg |
So, for a CBD vape with 500mg potency, and each puff contains 2.5mg of CBD, you can take between 8 – 10 puffs depending on your need. But, whatever you decide, start from a lower dosage and climb higher. 
CAN YOU VAPE CBD OIL
No, you can't vape CBD oil. Vaping CBD oil can lead to serious issues like lipoid pneumonia. CBD oil is made for oral or sublingual consumption and not to be vaped. Instead of vaping CBD oil, you can try CBD vape juice instead. These are designed to be vaped, unlike CBD oil.
HOW MANY MG CBD VAPE FOR ANXIETY
There is no one-size-fits-all dosage for CBD. Even the FDA does not have a recommended daily intake, meaning that there is no official serving size for CBD. CBD acts on 60 different pathways in the body which means that it has a very complex relationship with the body. The best anyone can do is to recommend. So, when taking CBD for any purchase and you are trying to determine the right dosage, take the following into account, product potency, bioavailability, your metabolism, your weight, the condition you are taking CBD for, and if you are taking other medications. 
CBD vapes have a bioavailability of 56% and the recommended mg to take for anxiety is between 15mg to 20mg. 
WHAT STRENGTH CBD VAPE SHOULD I GET
Like we said earlier, the strength of CBD vape you should get is dependent on so many factors. But, a critical factor when it comes to vaping CBD is your body weight, the reason you are taking CBD, and bioavailability. since CBD vape has a bioavailability of 56%, then you can get CBD vape of 500mg.
WHAT IS THE BEST CBD VAPE OIL
CBD vape oil must not be confused with CBD oil. The key difference here is that CBD oil tinctures are usually consumed orally while CBD vape oil is vape juice liquids designed for vaping. The best CBD vape oil is a broad-spectrum CBD vape juice because it contains all the natural ingredients that your body needs without causing a high. It also delivers the entourage effect, which makes it highly potent. 
CAN YOU EAT VAPE CBD OIL
The short answer is yes. There is nothing to worry about when you ingest CBD vape oil. This is because CBD vape oil is only CBD distillate and plant terpenes (provided you purchased one from Everlasting Life CBD store).CBD vape oil is much more potent than CBD oil (25x more potent)
DOES CBD OIL SMELL LIKE POT WHEN VAPED
CBD oil smell like "pot" when it is vaped because it is weed. The reason for this smell is because of the terpenes compound in the CBD vape oil.
WHAT IS CBD VAPE OIL
CBD vape oil is not the same as CBD oil. Knowing this difference is critical as it will determine whether you enjoy your CBD and give your body the chance to enjoy its magnanimous benefits or server health complications. CBD vape oil also known as CBD vape juices are liquids that contain CBD and are used in vapes. While you can take CBD vape oil in a tincture, you can't vape CBD oil.
WHERE TO GET CBD VAPE OIL NEAR ME
You can get CBD vape oil from any online retailer. But to be sure you are getting safe and premium CBD vape oil, you should check out the Everlasting Life CBD store. They stock premium, broad-spectrum CBD vape oil distilled from pure, organic hemp. Be sure not to buy CBD vape oil from Amazon because you will get something else and not CBD vape oil. This is because Amazon prohibits the sale of CBD on its platform.
HOW MUCH CBD OIL SHOULD I VAPE
The FDA doesn't have any recommended dosage so there is no standard answer to this question. However, you should start with a lower dosage and work your way upward while checking the effects that the CBD vape oil is having on you. since CBD vape oil has higher bioavailability, you want to consume less CBD vape than you consume CBD oil or gummies. For starters, you can begin with 10 – 20mg of CBD. 
HOW MUCH IS CBD VAPE OIL
The amount is totally dependent on a number of factors like the potency of the CBD, and the quality of the ingredients. Premium CBD vape oil begins anywhere from $35 - $100.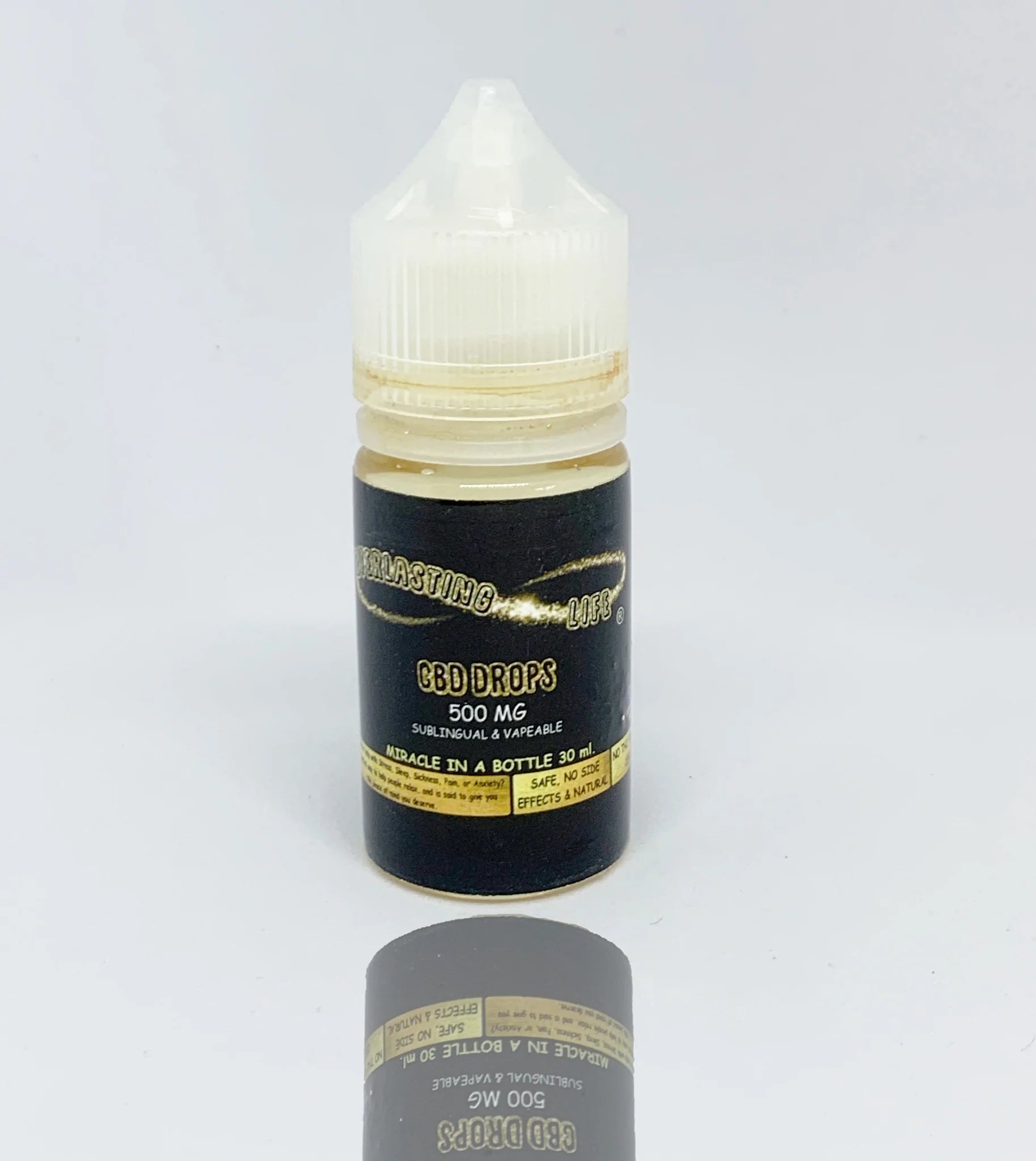 CBD Vape E-Liquid - CBD Vape Oil
The Everlasting Life CBD strives to deliver wellness and care to its customers using natural plants. The CBD Vape oil is manufactured in the USA and does not have any side effects. It is sourced from USA-grown Hemp, processed in an ISO-7 Clean lab, verified via third-party testing, and bottled. It is certified and approved with no proof of THC, side effects, and GMOs.

The medicinal properties of CBD help the body to recover faster and perform better. CBD interacts with the Endocannabinoid system and helps the body to improve its quality of life. Every human body is designed in a way that CBD helps in living a stress-free life. From stress and anxiety to inflammation and joint pain, CBD is a miracle plant that takes care of the world's most common health problems.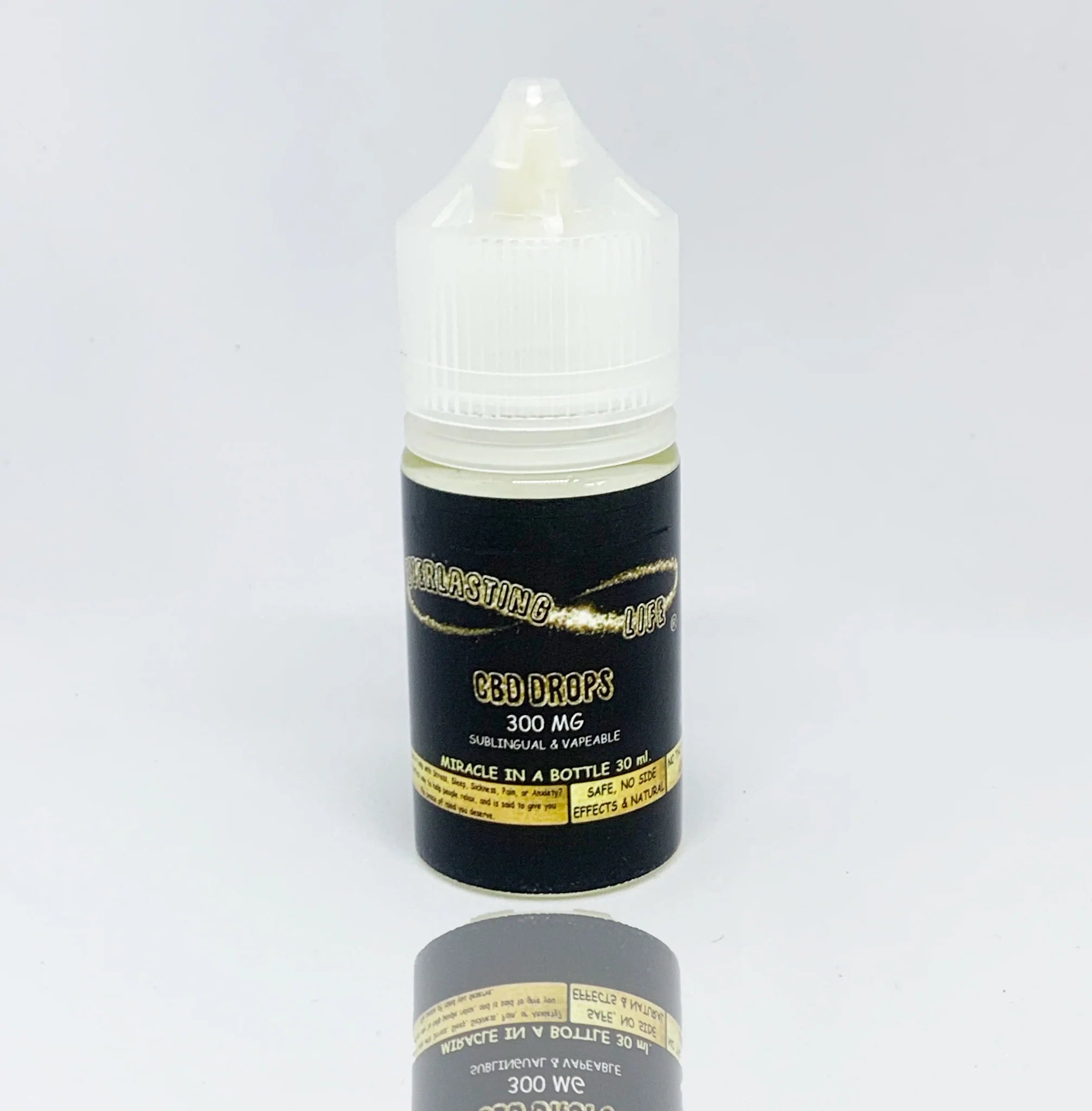 CBD Vape Drops Recommended Uses
The Everlasting Life CBD Vape drops come in a tincture of 300 mg - 1500 mg. First-time users are recommended to start with the dose of 1 - 2 drops in the morning and evening. Put the required dose under the tongue and hold the oil for 2 - 3 minutes to let it absorb under your mouth. The left amount can be swallowed.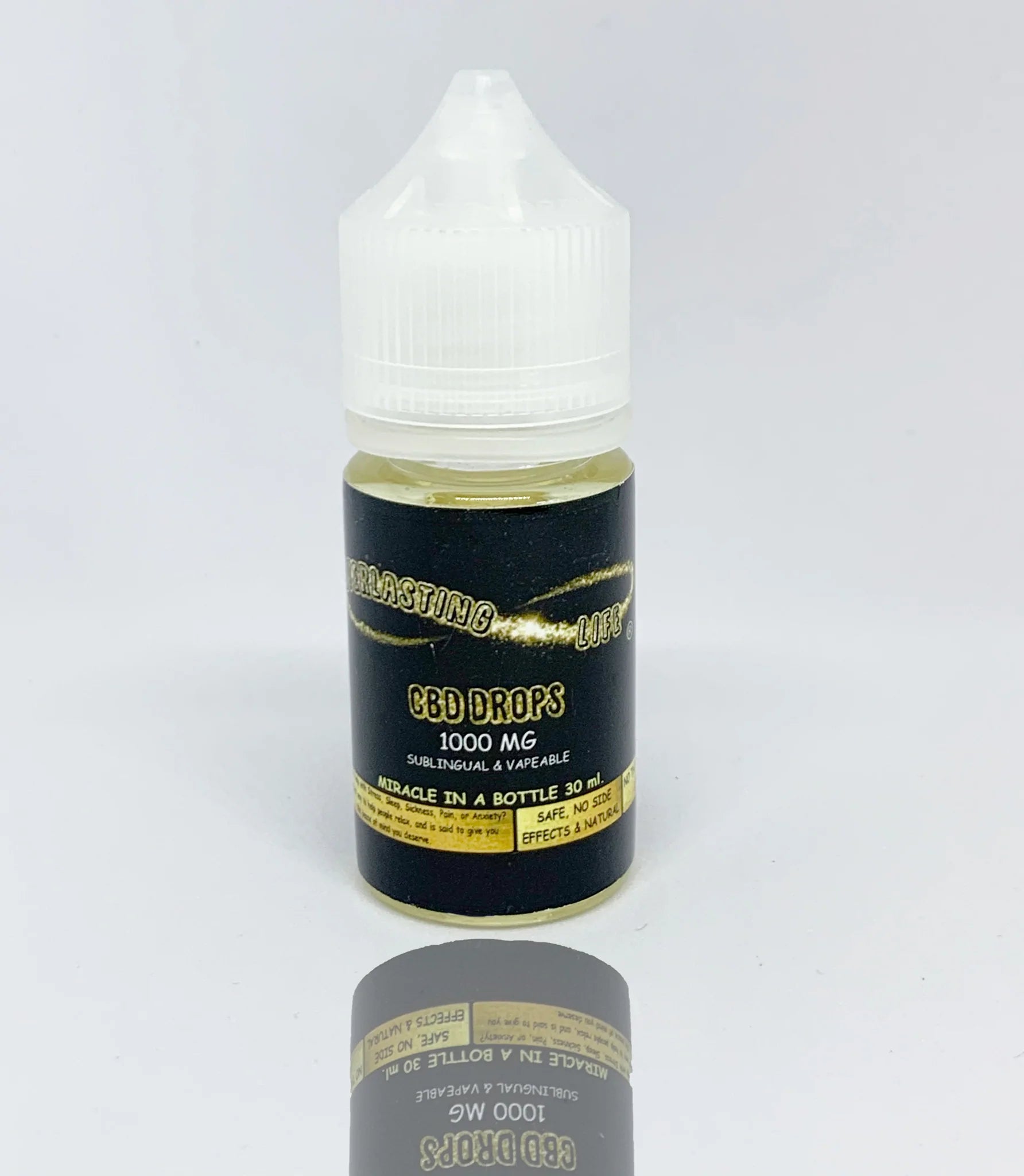 CBD VAPE OIL BENEFITS
Almost everyone has been talking about the potential benefits of CBD, from helping with sleeping disorders, elevating moods, relieving pain, boosting the immune system, burning fat, and increasing levels. However, what makes CBD vape oil the best way to take CBD is one word – bioavailability. Bioavailability determines how much CBD the body absorbs and how much is wasted. This is a critical term in supplements, and it is the number of nutrients and compounds in a product or substance that the body actually absorbed. Scientifically, it is defined as the amount of substance that enters the bloodstream when introduced into the body, so that it can have an active effect.

With regards to CBD, if a CBD product possesses high bioavailability, then it means that the product contains CBD that is processed in a way that the body absorbs at a higher rate. CBD vape oil is the best way to take CBD because it has a higher bioavailability (56%) making it more effective than CBD oil, CBD coffee, or other CBD-infused products.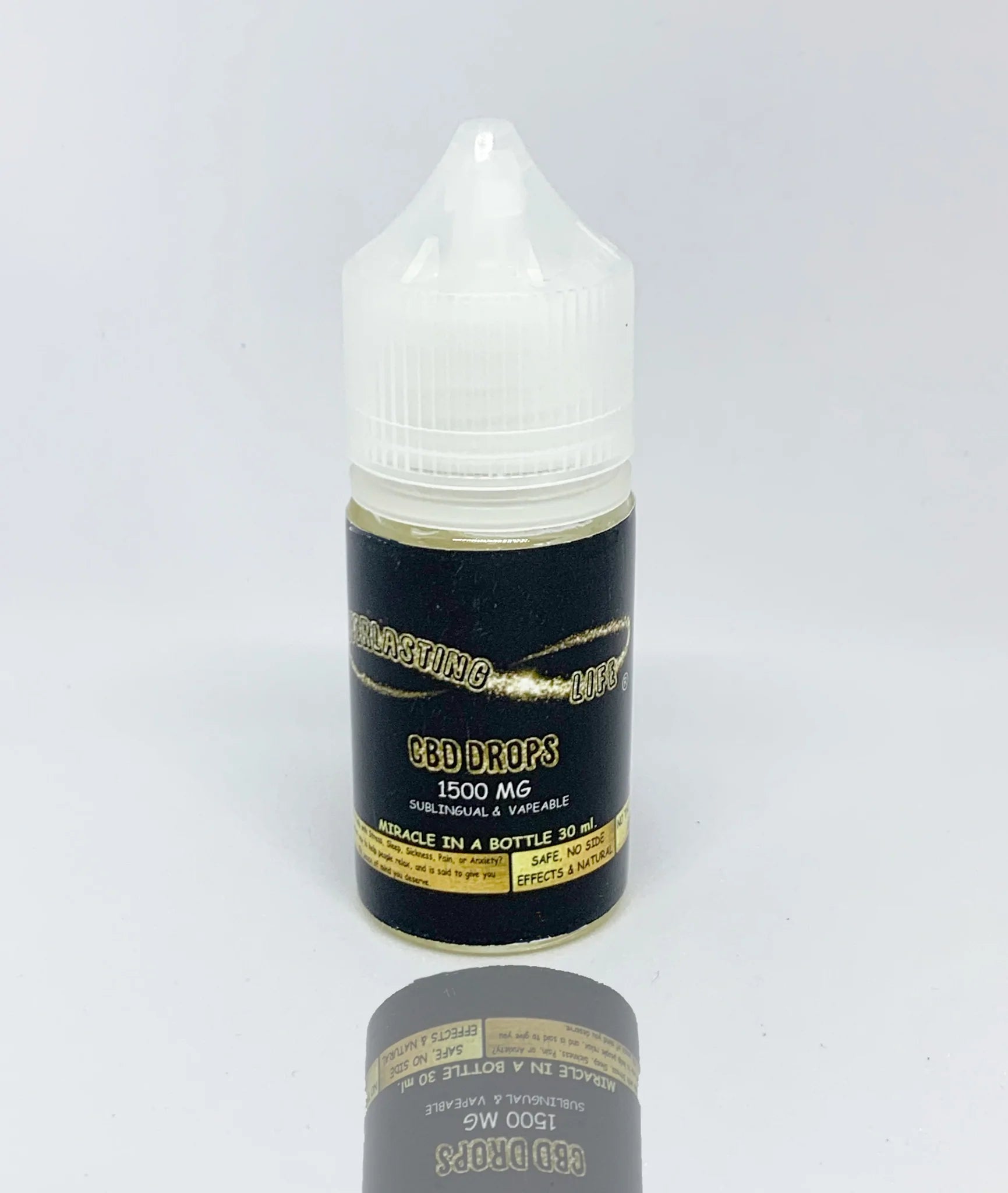 CBD VAPE OIL SIDE EFFECTS
in 2019, Federal and state authorities began investing the effects of CBD vaping after an outbreak of severe lung disease. And while the investigation is still ongoing, several side effects have been noted such as risk to heart and lung health, risk of overdose which leads to drowsiness, dry mouth, and diarrhea. Evidence also suggests that CBD vaping is bad for oral health.
CBD unlocks nature's powers to preserve and maintain the systems in your body and ensure they function optimally. CBD contains active ingredients like, all the cannabinoids, terpenes, and flavonoids that your body needs. These compounds coming together creates an "entourage effect" – thus increasing the potency and benefits of each individual ingredient to give your body an overall boost.. By adding CBD to your daily life, you are supplying yourself and your pets, you are supplying your body the ammunition it needs to combat stress and other issues at their source leaving you healthy and strong.


Our range of CBD products is based on years of research, putting together the necessary ingredients and compounds that your endocannabinoid system needs to maintain homeostasis. Every single compound in our products is strictly put together for one purpose – to help you and your pets live your best life. Everlasting Life CBD follows the strictest guidelines laid out for safety, health, and dosage by the approved authority. Our products are made from organic hemp sourced from licensed hemp farms in the US, meaning that our CBD products are legal. Also, our CBD products follow strict ISO safety standards and we have the third-party certificate analysis to prove it. Whatever you see on the product label is what you get from the products you purchase.
What our Customer Saying About Us?