CBD Bacon Wraps Pet Treats
Everlasting Life CBD Hemp Bacon Wraps Treats is a great option for our Lil children we call Pets. Bacon Wraps Everlasting Life. MY KIDS HAVE PAWS.
The Everlasting Life CBD Bacon Wrap treats to promote the health and wellness of your pooch. Your pets are what they eat, the reason it is important to feed them health and confidence. Our CBD bacon wraps come with 2.5mg of CBD per treat. Each treat of our batch is third-party tested to validate quality, purity, and THC-free claim to bring you products that you can trust. 100% natural and reliable treatment that could give back your pet confidence, happiness, health, and self-esteem.
Perfect for pet dogs and cats and especially for the rescued ones who were previously mistreated and look for a high dose of love together with CBD to feel like themselves again. CBD is the ultimate solution if your pet has allergies, itchy skin, bug bites, dermatitis, swelling, and many more. All you need is 2 treats a day and wait until you see the difference.
Hemp-derived CBD.

Verified Potency.
THC-Free Formula
Third-Party Tested
Everlasting Life CBD Bacon Wraps Treats Specifications:
Strength 

Total Jar: 100mg Perfect For Pets
Strength 1 Pet Treat: 2.5mg
Jar Size: 8oz
Ingredients: Wheat Flour, Soybean Flour, Water, Beef, Glycerin, Whole Corn, Sugar, Bacon, Corn Syrup, Natural Smoke Flavor, Bone Phosphate,
Salt, Potassium Sorbate (Used as a Preservative), Phosphoric Acid, Red 40 Lake, Glyceryl Monostearate, Yellow 6 Lake, Titanium
Dioxide (Color), BHA (Used as a Preservative), Yellow 5 Lake, Blue 1 Lake
Everlasting Life CBD Bacon Wrap treats FAQs:
How can CBD treats help my pet?
It could be quite a struggle taking care of your pet's illness and pain. It becomes so hard to watch your pooch like that. A treat of CBD is a perfect solution for dogs having high anxiety, digestion problems, chronic inflammation, and severe pain. Hemp-derived CBD not only works great for humans but also works miraculously for dogs and cats.
Will CBD treats to make my dog feel high?
Our CBD bacon wrap treats are derived from certified and organic hemp plants without any concentration of THC. Legally required hemp which has zero or less than 0.03% of THC is non-psychoactive and does not give any human or dog a high feeling.
How will I know your product is genuine?
Our CBD products such as CBD Cat Pet Treats, Bone Treats, Coffee, Tea Bags are formulated in an ISO-7 Clean lab and further go through third-party testing to ensure quality. Our team makes sure to implement all the quality standards and safety practices while manufacturing.
Can I give CBD treats daily to my dog?
Well definitely, CBD best works great when given daily. It is not necessary to give a high dose on a daily basis. You must determine what works best for your pooch according to behavior issues and symptoms.
How many CBD treats should I give my dog in a day?
Our jar of CBD Pet treats offers 2.5mg of CBD per treat. It is recommended to give a dose of CBD according to the pet's size and weight. Dogs below 10 pounds should be given small doses like 1 treat a day or cutting them into half and giving 2 times a day. And, dogs above 10-15 pounds can be given 2 treats a day.
What ingredients does CBD Bacon wraps treats include?
Each treat consists of 2.5mg of certified and organic hemp-derived CBD and other substances like bacon, wheat flour, glycerin, beef, natural smoke flavor, corn syrup, water, bone phosphate, salt, red 40 lakes, phosphoric acid, yellow 5 lakes, blue 1 lake, glyceryl monostearate, and titanium dioxide.
Everlasting Life CBD Manufacturer Info
Manufactured United States :
100% CBD Lab Tested :
Everything is Sealed and Shrink Wrapped for the Safety of Our Lil Family Members (Our Pets).
Are You a Retail store? Everlasting Life Wholesale Available Click below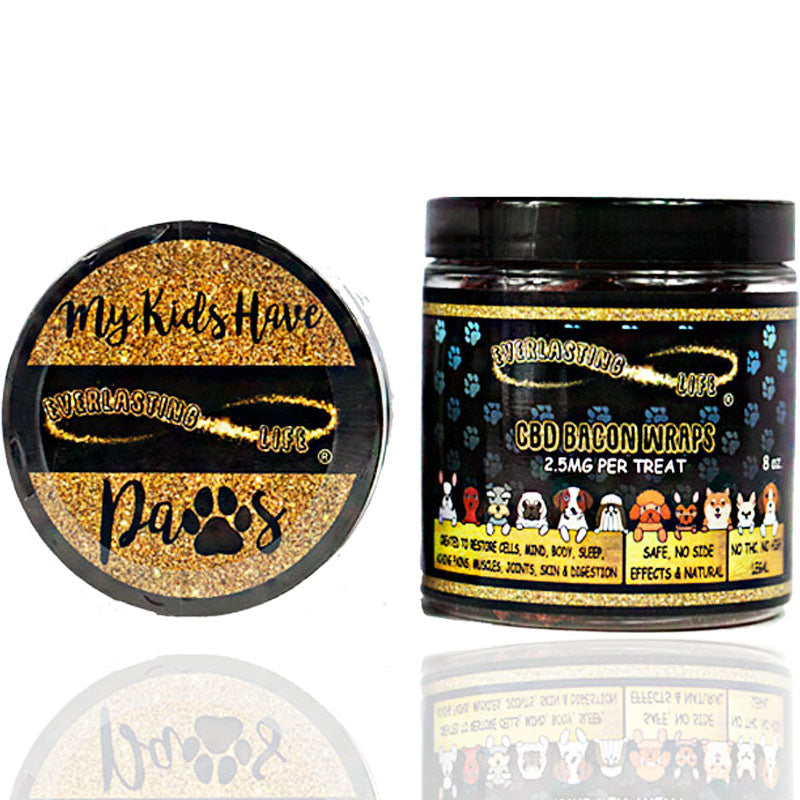 CBD BACON TREATS FOR DOGS
Let's face it. Your furry friend enjoys treats, and as a pet parent, what better way to add wholeness and improve the quality of their lives than by giving them CBD bacon wrap pet treat. CBD bacon treats are tasty and irresistible that is specially formulated to give your pet the CBD that their endocannabinoid system needs to not only maintain and preserve body balance by ensuring every organ in their body is functioning optimally.
By adding CBD to your pet's life, you offer them the chance to live their best lives because the endocannabinoid system deals with issues at the root living your pet in perfect shape physically, and mentally.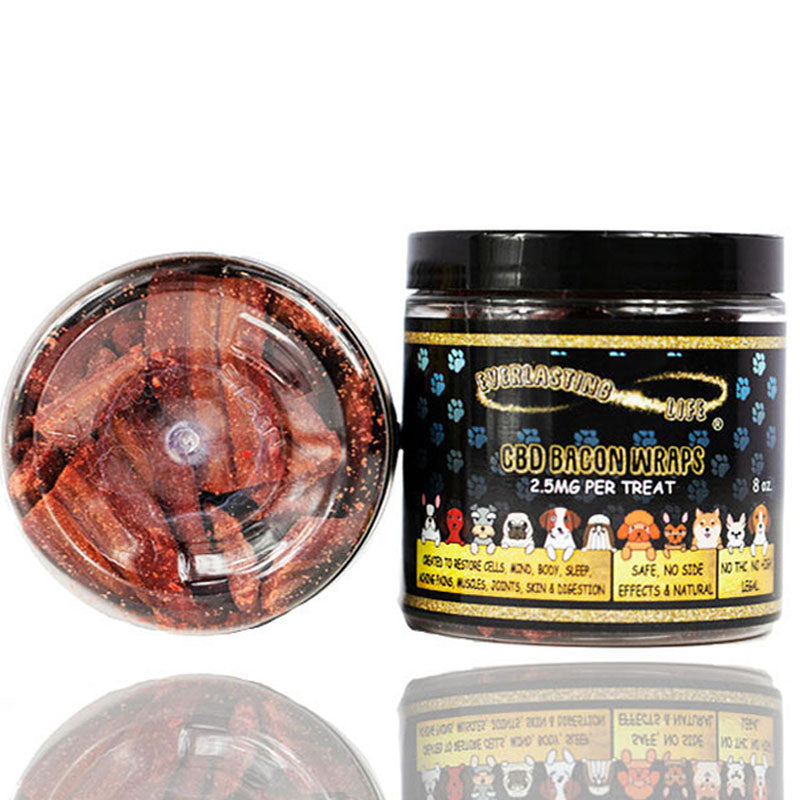 CBD BACON WRAPS PET TREATS DOSAGE
CBD is like a two-edged sword. When taken in the right dosage, it delivers immense benefit and vitality to the body. However, when the dosage is wrong, the negative effect can be damning. While there is no straightforward answer to give to this question because of different factors like weight, need, and potency of the CBD in the pet treat, the best anyone can really do is make a recommendation. As a general rule of thumb, you should give 1-5mg of CBD for every 10 pounds of body weight.

However, it depends on who you purchase the CBD bacon wraps pet treat from. For Everlasting Life CBD wraps pet treat, you can give 2 treats per day for 10 – 50 pounds of body weight. For pets lower than 10 pounds, you can break it in half and give them twice daily. This is because each pet treat contains 2.5mg of CBD.
But for safety, you should speak with your veterinarian before administering CBD to your pet.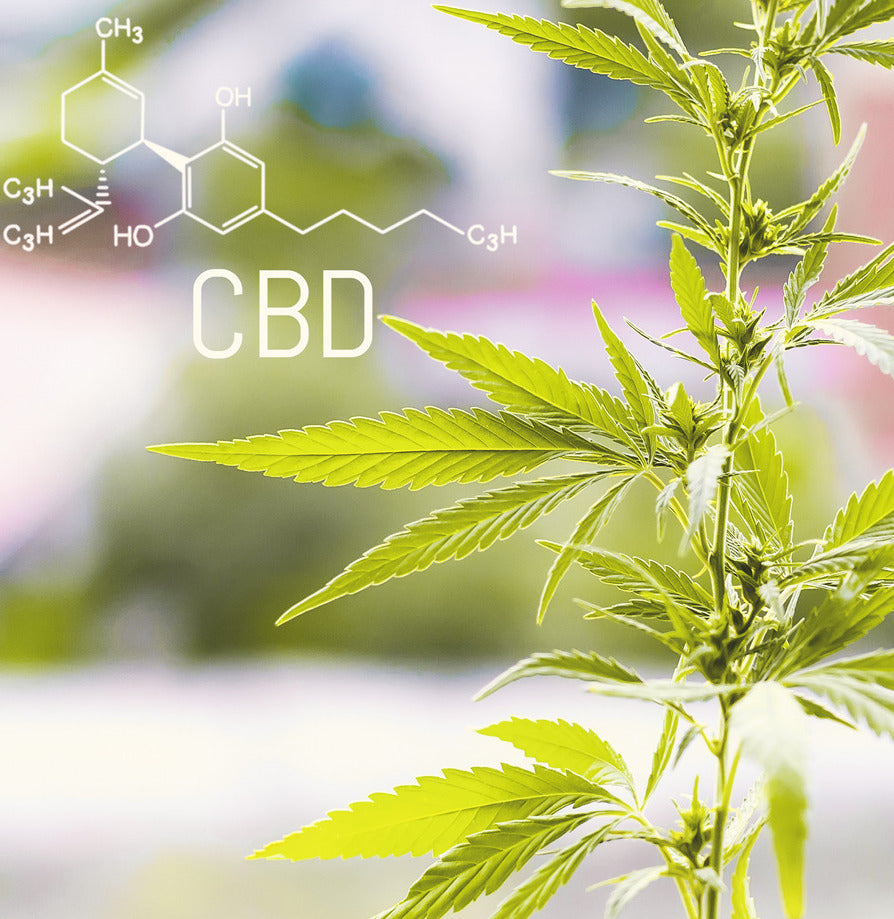 CBD BACON WRAPS PET TREATS BENEFITS
With more people looking for a more natural to ensure their pets live their best pet life, CBD bacon treats comes to the fore. Most pet owners who use CBD bacon treats have attested to many positive changes in the lives of their pets. Some of the positives of CBD bacon pet treats are, that it helps to relieve anxiety, and reduces seizures and epilepsy. CBD bacon wraps pet treat is also excellent for relieving pain because CBD possesses anti-inflammatory properties and pain-relieving properties. Furthermore, pet owners have said that their pets have improved appetite, no nausea, sleep well and develop healthy fur and skin. Other healthy benefits of CBD bacon wrap treat are aiding digesting, improving heart health, and boosting their immune system.

Bottom line, CBD bacon wraps pet treat helps your pets stay healthier in every area of their lives.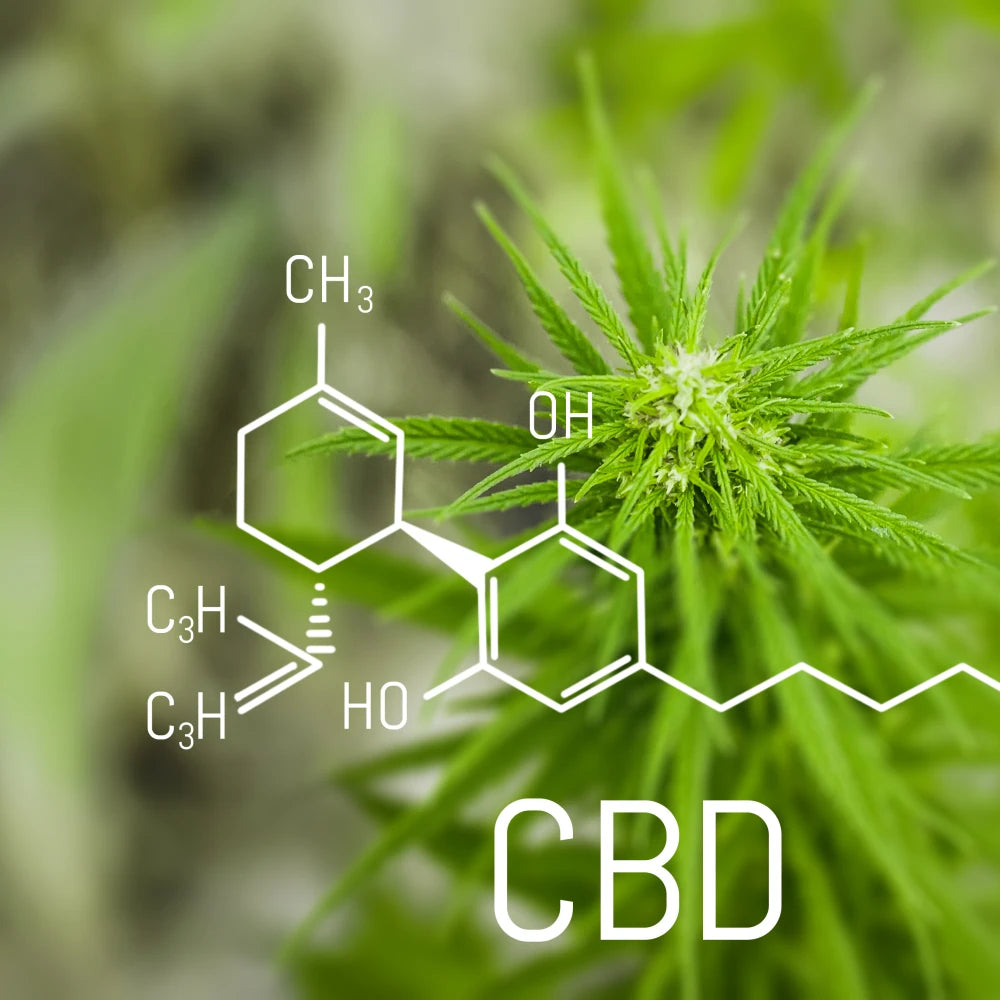 CBD BACON WRAPS PET TREATS SIDE EFFECTS
Due to differences in metabolism and depending on dosage also, pets react differently to CBD. That is why you should start with a lower dosage and climb to a higher dosage until you get the right effect you are looking for. However, here are some of the negative effects of giving CBD bacon wraps pet treat, lethargy, dizziness, increased tremors, itchiness, low blood pressure, upset stomach, vomiting, diarrhea, and inhibits the production of liver enzymes. It should be noted that some of these side effects are due to over dosage.
CBD unlocks nature's powers to preserve and maintain the systems in your body and ensure they function optimally. CBD contains active ingredients like, all the cannabinoids, terpenes, and flavonoids that your body needs. These compounds coming together creates an "entourage effect" – thus increasing the potency and benefits of each individual ingredient to give your body an overall boost.. By adding CBD to your daily life, you are supplying yourself and your pets, you are supplying your body the ammunition it needs to combat stress and other issues at their source leaving you healthy and strong.


Our range of CBD products is based on years of research, putting together the necessary ingredients and compounds that your endocannabinoid system needs to maintain homeostasis. Every single compound in our products is strictly put together for one purpose – to help you and your pets live your best life. Everlasting Life CBD follows the strictest guidelines laid out for safety, health, and dosage by the approved authority. Our products are made from organic hemp sourced from licensed hemp farms in the US, meaning that our CBD products are legal. Also, our CBD products follow strict ISO safety standards and we have the third-party certificate analysis to prove it. Whatever you see on the product label is what you get from the products you purchase.
What our Customer Saying About Us?