Best CBD Coffee Online
The Everlasting Life CBD coffee Online is infused with 20 mg of pure CBD extracts which are 100% organic with zero THC and no legal high. Complemented with two beautiful flavors of Decaf Coffee and Regular Caffeinated Coffee. The Everlasting Life CBD takes the coffee to the ISO-7 Clean Lab testing and third-party labs to demonstrate contents. Their hemp CBD coffee in the US is one of the most popular.
Top Highlights & Flavors
Best CBD Coffee online 20mg per CBD Coffee Bag. Safe no side effects and natural. No THC and no legal high.
Regular Caffeinated Coffee
Decaf Coffee
Everlasting's CBD Coffee FAQs:
How will CBD Coffee make me feel?
CBD is a natural substance that is obtained from Hemp plants. It works as a neuroprotectant and antioxidant that ultimately helps in dealing with some psychological and physical symptoms like Anxiety, Joint Pain, Psoriasis, Muscle Soreness, Stress, Depression, and many other common problems. The blend of caffeine and CBD extracts might make you feel energized and more alert towards works.
Will CBD coffee make me feel high or drowsy?
Our CBD infused coffee is free from THC and high legal and will not make you feel high or drowsy. However, determining and drinking the right dosage daily could leave positive impacts on your mental and physical health.
How to drink CBD coffee?
There is no such additional fuss in making our CBD coffee. Each bag of our coffee comes with 20 mg of pure CBD. It needs to be brewed just like the regular method. Add one bag to 1 cup of boiling water. Strew and wait for 3-4 minutes to let them blend together. Pull out the bag and enjoy that perfect cup of freshly brewed coffee. You may also add milk/sugar as per your requirement.
Can I Take CBD with Coffee?
Absolutely, coffee itself is an energizing beverage and when combined with CBD, it works more effectively, leaving a positive impact on your health. In the case of our coffee, each bag comes infused with 20mg of CBD and there is no need to put additional drops of CBD. Avoid overdosing as it might interrupt your work.
What is so special about your CBD coffee?
Our CBD is derived from certified and organic hemp farms. We then take off contaminants and make pure CBD isolate. Our product does not include any concentration of THC, GMOs, pesticides, or other harmful colors. It is made to give you comfort at the convenience of your home.
Are your products third-party tested?
Yes, we take our products to the ISO-7 clean lab and third-party testing to ensure quality and purity. We guarantee the quality as every batch of our products gets tested often.
How Does Cbd Coffee Work?
The idea is really simple, and there are two ways you can go about it. For the first option, all you need to do is add a few drops of CBD oil into your ground coffee before brewing. Alternatively, you can add the CBD extract directly into your freshly-brewed coffee. However, this will result in a stronger hemp flavor than regular CBD coffee delivers.
Which Coffee is Best?
There are three categories of CBD; full-spectrum, broad-spectrum, and isolates. For CBD coffee, the best is Full-Spectrum CBD coffee. This is because it contains all the terpenes and flavonoids as well as THC. All these compound fuses together and have an "entourage effect" (one compound is stronger because of the presence of another). However, Full-Spectrum CBD will show in a drug test. So, the next best thing is Broad-Spectrum. It has everything the Full-Spectrum has minus the THC.
How Much Cbd In Coffee?
Everlasting Life CBD coffee is infused with 20mg of pure broad=spectrum extracts.
How Much Cbd Should I Put In My Coffee?
The recommended amount of CBD in a standard 8-ounces cup of coffee is around 15mg of CBD. This amount is potent enough to calm your nerves and protect your mental health without making you feel sleepy or overly relaxed. In other words, this amount is perfect to keep your positive energy. Most CBD coffee averages around 12.50mg of caffeine per liquid ounce, which means that you will get approximately 100mg of caffeine in an 8-ounce cup of coffee. Again, this amount is just perfect, since it is enough to keep you alert, and not potent enough to drown you in the effect of caffeine.
Can You Drive After Drinking Cbd Coffee?
while taking CBD coffee does not impair your ability to drive, you shouldn't drive the first time you consume CBD coffee. And this same recommendation goes for other supplements or medicine you consume for the first time.
Where to Buy Cbd Coffee Near Me?
with the aid of your phone, you can buy CBD coffee online and have it delivered to you. check out Everlasting Life CBD to get started.
Is Cbd Coffee Popular?
At first glance, there seems to be no reason why these two products should be an ideal combination. On the one hand, coffee is a prevalent beverage with roughly 80% of Americans caffeinated daily. On the other hand, CBD is a relatively unknown product rising in alarming popularity. However, both coffee and CBD have so much in common than you realize. Most people take CBD because of the help they get from it. From soothing their anxiety to helping them get better sleep.
What Is Cbd Coffee?
CBD coffee is any coffee that has been mixed with the cannabinoid (cannabidiol) compound found in the hemp plant. CBD-infused coffee simply means that your coffee was manufactured with CBD compound, or you added CBD oil to your coffee before drinking.
Where Can I Buy Cbd Coffee?
you can purchase CBD coffee online. However, with so many online CBD coffee pirates, it can be difficult to get an Organic CBD coffee online. The best place will be a certified and recognized brand like Everlasting Life CBD. All our products are made from organic hemp from licensed farms and have the highest purity with the certificates to prove it.
How Good Is Cbd Coffee?
CBD is a highly lipophilic molecule, meaning that CBD dissolves in the fat content. This action in itself increases the solubility and the amount of CBD the body can absorb. Since CBD is lipophobic, it mixes well with fat, so when you take a CBD infused coffee and add cream or honey, the CBD mixes well and delivers a high dose into the body. This is made possible because the acids in the stomach increase the bioavailability of CBD and slowly but gradually release it into the body for a long-lasting effect.
Best Way To Make Cbd Coffee?
The simplest way of making CBD coffee is by brewing your cup of coffee, then adding CBD oil via a dropper into your cup. The easiest way is to get a coffee bag that is already infused with coffee at the time of its making and processing. You can buy our CBD coffee to save you the stress and hassle of making and measuring by yourself.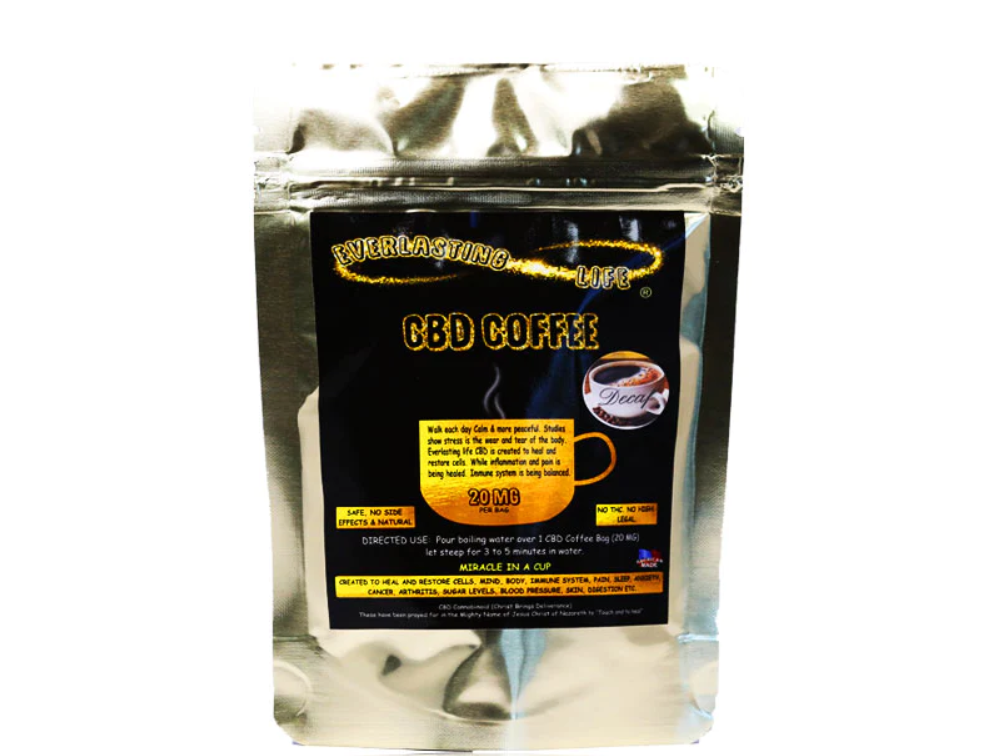 CBD Coffee Bags 20mg
There's nothing better than a cup of coffee infused with CBD. Since the medicinal and therapeutic properties of CBD came into existence. CBD coffee has received huge popularity. It has been proven effective to eliminate stress, anxiety, pain, inflammation, and other cancer-related symptoms. It works as a natural tonic that helps in maintaining a perfect balance between mind and body.

Our CBD coffee is derived from the certified hemp farms of the United States and further formulated in an ISO-7 Clean lab to check the purity and quality. Our Hemp CBD coffee is available in 2 types - Regular Caffeinated Coffee and Decaf Coffee. Each bag of coffee includes 20mg of pure CBD extracts to ease the stress out and keep you alert and focused on daily chores.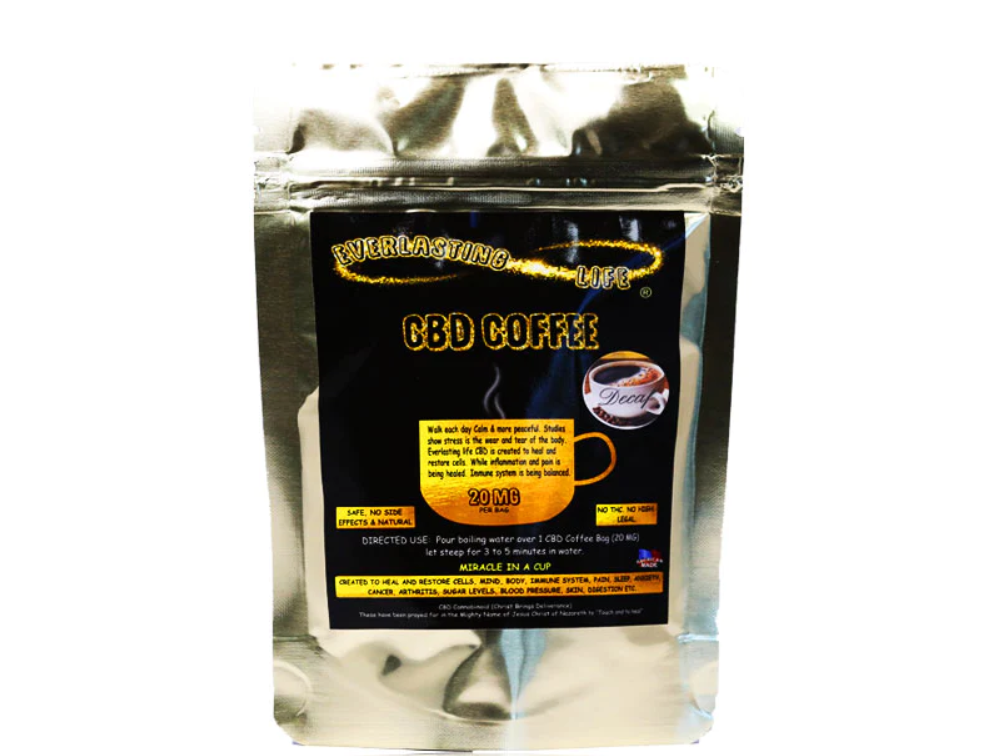 CBD Coffee Uses
The consumption of the Everlasting Life CBD coffee depends upon the level of symptoms and how your body reacts to the CBD. Consumption varies from person to person. Each bag comes with 20 mg of CBD coffee which is just perfect for a single cup of coffee. For first time users, it is recommended to start with 1 - 2 cups of coffee per day. For best results, consume a cup of Everlasting Life CBD coffee in the morning to keep you energized for the rest of the day.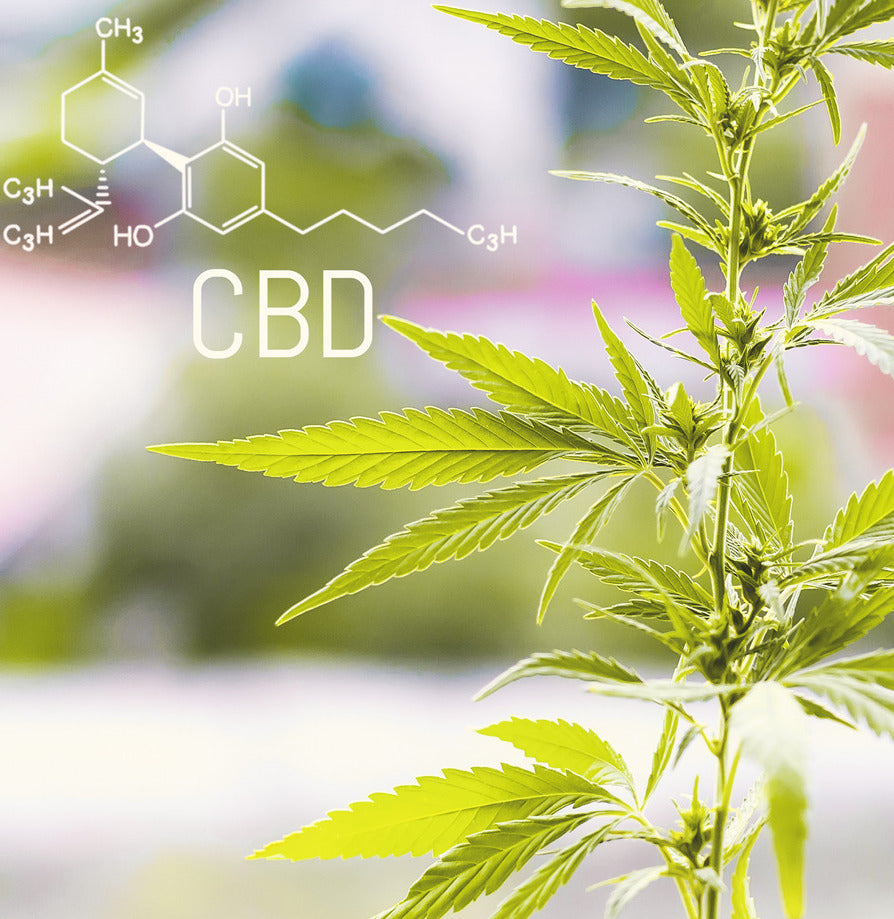 one of the benefits of taking CBD is loss of appetite. This is because CBD intake blocks off the CB1 receptor – the hormone that increases food intake. Also, CBD helps to turn bad fat in the body into brown fat which can help the body burn calories. So, if you are looking to lose weight or control obesity, CBD coffee can help with that.
CBD from the CBD capsules acts with the receptors and serotine levels in the brain, making it a great supplement to soothe anxieties and help induce sleep. But to get the best result, you must understand how dosage and the type of CBD work together to deliver the desired outcomes
CBD possesses anti-seizure and anti-inflammatory compounds. As a result, people use CBD to manage chronic pain and Crohn's disease.
Cannabinoids from the CBD act on the endocannabinoid system receptors that influence pain and inflammation in the body. CBD affects how these receptors respond to the pain, sending a good feeling to the body, while the anti-inflammation and pain-soothing properties in the CBD go to work.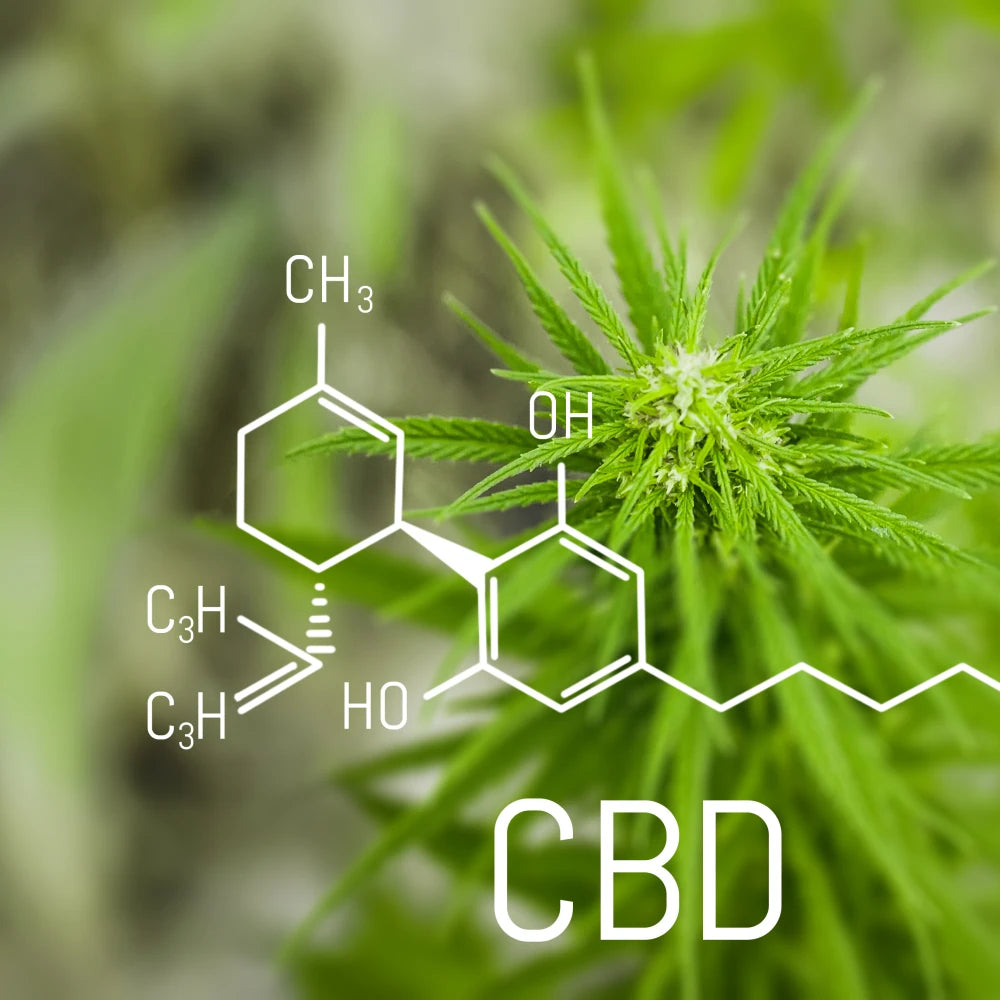 CBD Coffee Side Effects
CBD has some adverse effects which in most cases is due to the number of Coffee consumed. Also, some people can tolerate its side effects. But, most of the adverse reactions people get from consuming CBD include dry mouth, reduced appetite, drowsiness, fatigue, and diarrhea. Also, when taken with other medications, CBD Coffee can cause blood thinners.

Furthermore, it is not advisable to take CBD Coffee if you are pregnant or breastfeeding as you will be introduced to some chemicals that may harm your baby and body.

CBD unlocks nature's powers to preserve and maintain the systems in your body and ensure they function optimally. CBD contains active ingredients like, all the cannabinoids, terpenes, and flavonoids that your body needs. These compounds coming together creates an "entourage effect" – thus increasing the potency and benefits of each individual ingredient to give your body an overall boost.. By adding CBD to your daily life, you are supplying yourself and your pets, you are supplying your body the ammunition it needs to combat stress and other issues at their source leaving you healthy and strong.


Our range of CBD products is based on years of research, putting together the necessary ingredients and compounds that your endocannabinoid system needs to maintain homeostasis. Every single compound in our products is strictly put together for one purpose – to help you and your pets live your best life. Everlasting Life CBD follows the strictest guidelines laid out for safety, health, and dosage by the approved authority. Our products are made from organic hemp sourced from licensed hemp farms in the US, meaning that our CBD products are legal. Also, our CBD products follow strict ISO safety standards and we have the third-party certificate analysis to prove it. Whatever you see on the product label is what you get from the products you purchase.
What our Customer Saying About Us?